Sea Turtle Center: Updates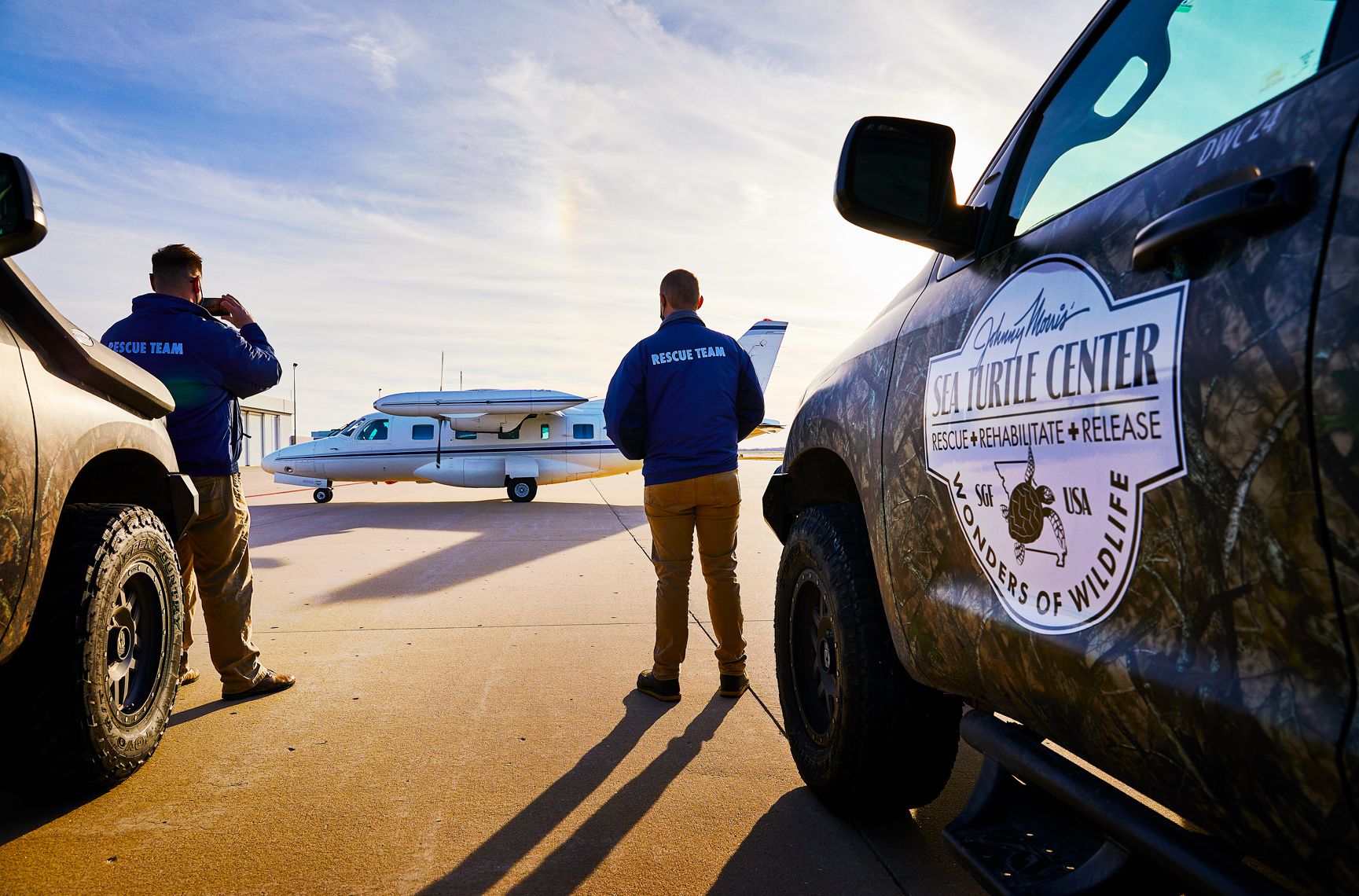 A Continued Mission
The Midwest's Only Sea Turtle Rescue, Rehabilitation, and Release Center Is Helping Endangered Loggerheads Again This Year
Springfield, Mo. – Eight endangered loggerhead sea turtles previously stranded along the east coast have found refuge at Johnny Morris' Wonders of Wildlife National Museum and Aquarium. In partnership with the National Oceanic Atmospheric Administration (NOAA) and the U.S. Fish and Wildlife Service, Wonders of Wildlife is providing specialized care for the cold-stunned loggerheads at the Midwest's only sea turtle rescue, rehabilitation, and release center.
Cold-stunning is a naturally occurring medical condition that impacts sea turtles when water temperatures sink below 50 degrees. It causes disoriented turtles to wash up on shore, too sluggish and vulnerable to continue swimming towards warmer waters or survive on their own. In December, as water temperatures in parts of the coastal U.S. dropped precipitously, hundreds of sea turtles sadly washed up across the eastern seaboard displaying symptoms of cold-stunning.
Turtles Fly Too, a nonprofit organization that coordinates transportation for endangered turtle species to rehabilitation centers, provided the loggerheads with a flight from Boston, Massachusetts, to the next stage of their recovery here in Springfield. As a light snow fell over the airport, the Wonders of Wildlife animal care team welcomed the eight turtles in need of care to our Sea Turtle Center on January 6.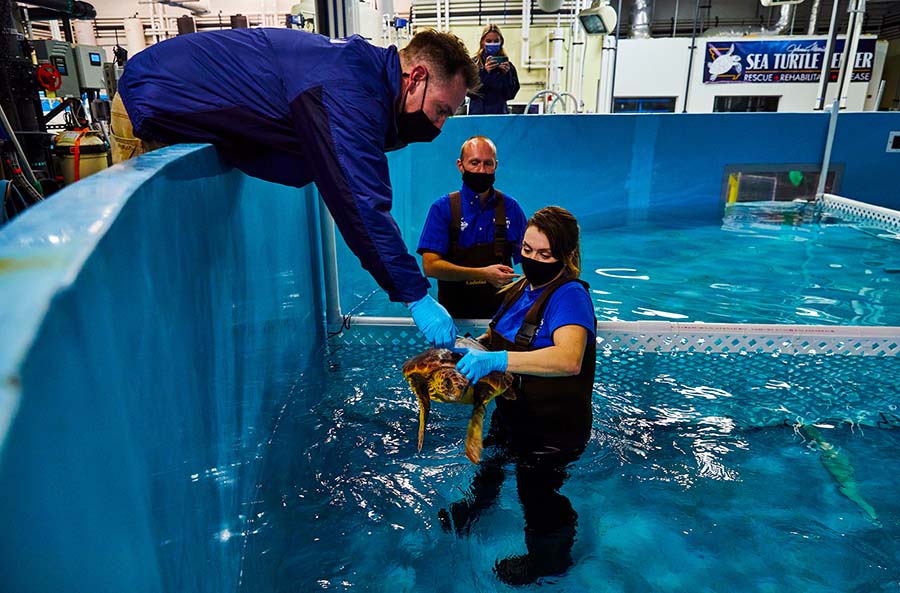 "Johnny Morris founded Wonders of Wildlife in his hometown of Springfield, Missouri to inspire midwestern kids and families to care about conserving wildlife around the world, and rescuing these sea turtles is a great example of his conservation vision in action," said Bob Ziehmer, Senior Director of Conservation at Bass Pro Shops and Cabela's. "The expert team at Wonders of Wildlife will provide the turtles with incredible care – and plenty of genuine Ozarks hospitality – throughout their stay and recovery."
Specialized Care for Very Special Animals
Each turtle's body weight was recorded upon arrival to keep track of overall growth and progress, and every aspect of their care is being carefully documented to help with that process. Every turtle was issued a number that was tagged on their shell with non-toxic paint and a corresponding band was placed around their flipper to serve as an additional identifier.
The turtles are currently being nursed back to health in our 16,000-gallon backstage recovery pool, where our dedicated team of veterinarians and marine biologists are monitoring them around the clock.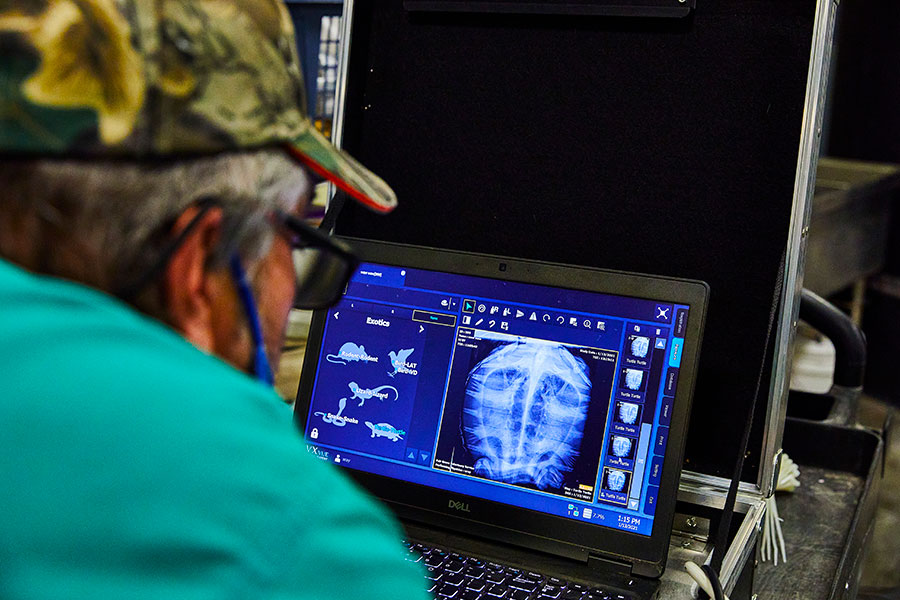 Cold-stunned turtles are particularly susceptible to pneumonia, so examining their lungs through x-rays is a vital part of their medical evaluations. Blood samples from the turtles will also be monitored to ensure the x-rays or physical exams don't overlook medical conditions.
"The mission of Johnny Morris' Wonders of Wildlife National Museum and Aquarium is to inspire people to care about conserving wildlife. We're excited to help rescue, rehabilitate, and release another group of sea turtles this year, further demonstrating our commitment to that mission," said Mike Daniel, Wonder of Wildlife's Curator of Life Sciences. "Our expert team will provide the turtles with incredible care throughout the duration of their stay, and we're excited to guide them on the path towards a full recovery."
A Second Straight Year of Helping Turtles in Need
This is the second year in a row that cold-stunned loggerheads needing critical care have been temporarily relocated to Wonders of Wildlife.
"This winter, we have seen another very high number of live sea turtles stranded on beaches across the east coast, so we once more looked to Wonders of Wildlife to help provide care for turtles in need. We are grateful for this partnership, and we are so glad they generously opened their doors again to help us in a united effort to conserve sea turtles for future generations," said Kate Sampson, NOAA Fisheries Sea Turtle Stranding and Disentanglement Coordinator for the Greater Atlantic Region.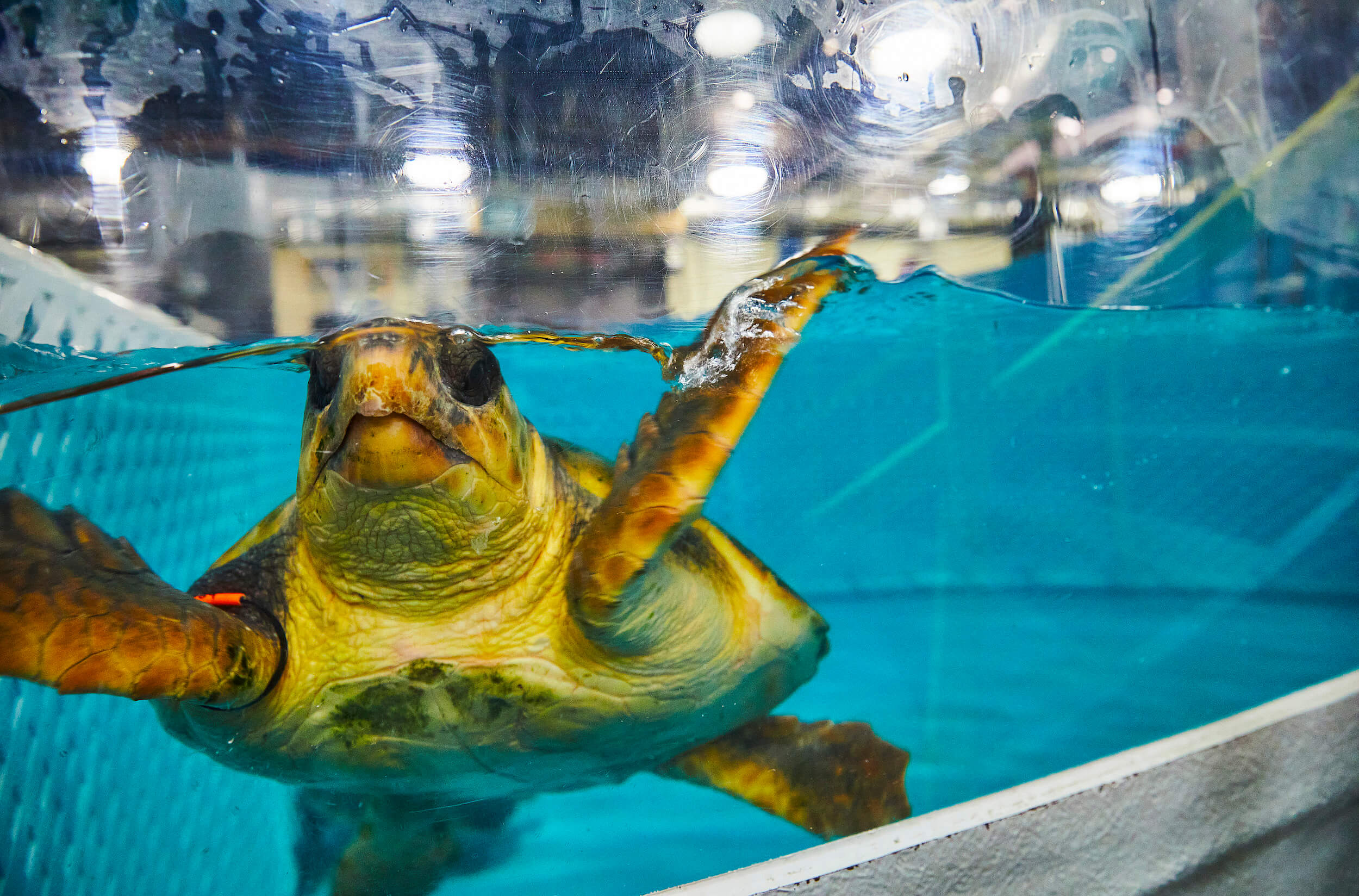 At the end of 2020, when other existing turtle recovery centers had already reached capacity, Wonders of Wildlife was asked to assist at a moment's notice. Thanks to a grant from the Bass Pro Shops and Cabela's Outdoor Fund, Wonders of Wildlife quickly had the equipment and infrastructure in place to provide necessary care for these turtles. Soon after, twelve loggerhead sea turtles that had been stranded near Cape Cod, Massachusetts, arrived at our Sea Turtle Center.
While at Wonders of Wildlife, each turtle went through multiple medical evaluations and physical exams that ensured a successful road to rehabilitation and release.
By April of 2021, the turtle's overall health had stabilized, and all twelve turtles were strong enough to be released back into the wild. After a recovery process that lasted more than three months, the WOW animal care team traveled to the coast of Panama City Beach, Florida, to release the turtles in partnership with Gulf World Marine Institute. Each turtle was also tagged with a GPS device for additional long-term monitoring and ongoing research purposes.
You can support our ongoing sea turtle rescue, rehabilitation, and release efforts by signing up for the Adopt an Animal program. By purchasing a symbolic sea turtle adoption package, you can stay connected with the projects taking place at our Sea Turtle Center and directly support the world-class care we provide to sea turtles in need. To commemorate your contribution, you'll receive a package that includes a green sea turtle plush, official adoption documentation, a customizable certificate, and a thank you letter from our team at Johnny Morris' Wonders of Wildlife National Museum & Aquarium.
Rescue Effort Made Possible By: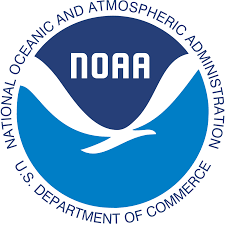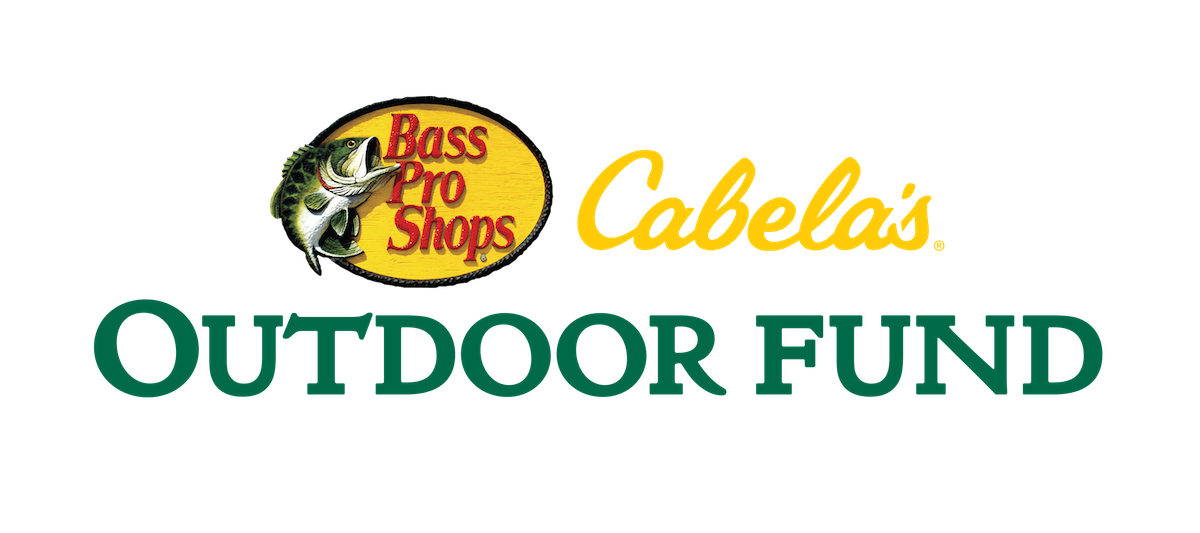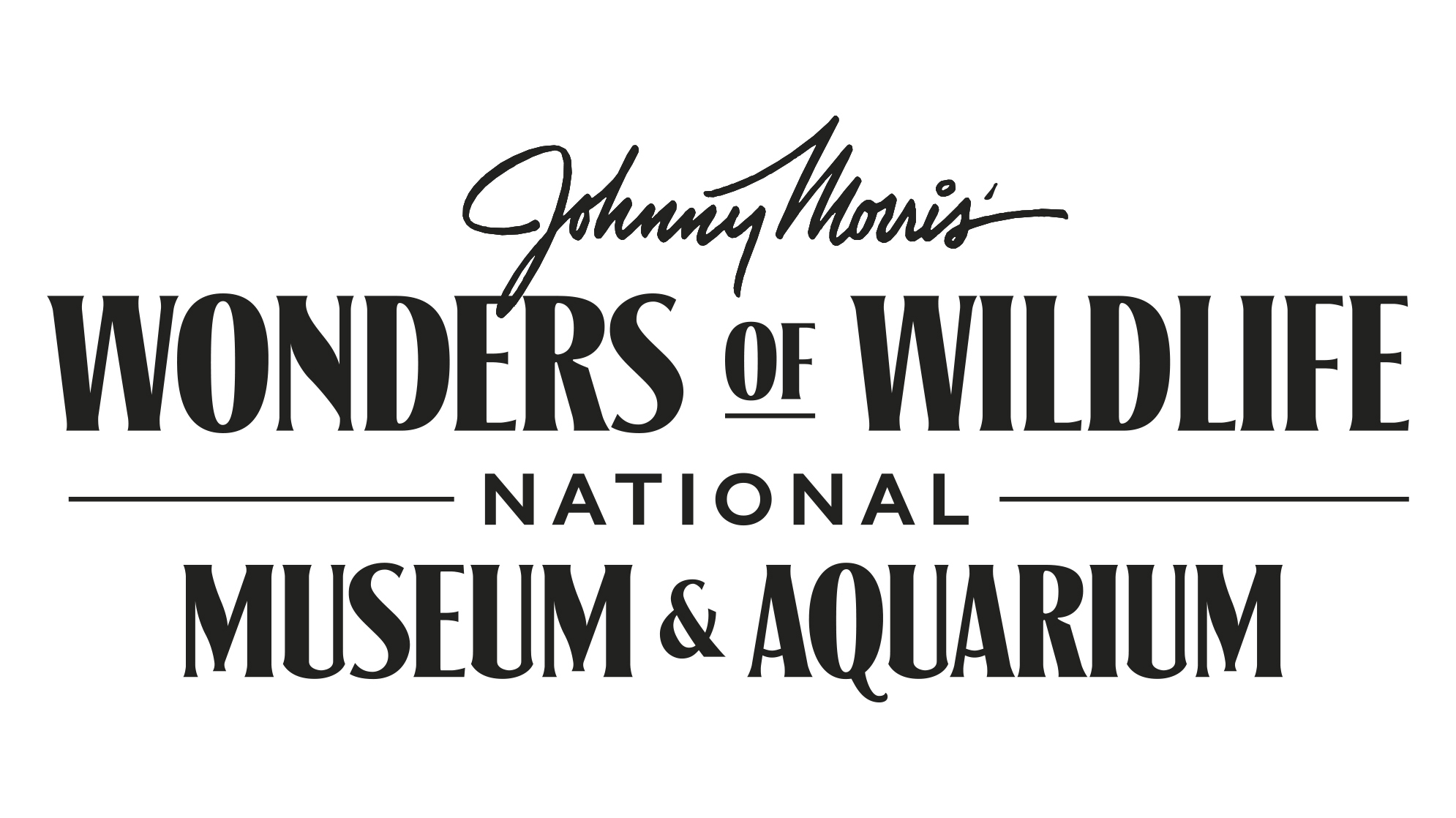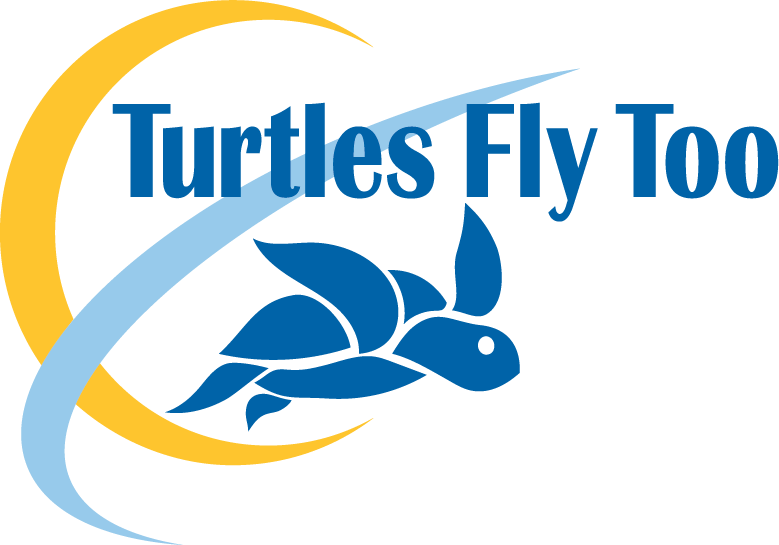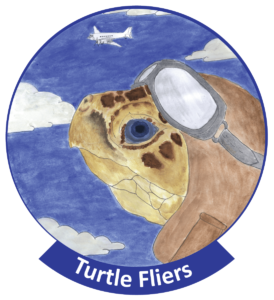 ADOPT AN ANIMAL
Stay connected to the 35,000 live animals that call Wonders of Wildlife home with a symbolic animal adoption. In exchange for your generous support, you'll receive a one-of-a-kind package from the Aquarium to commemorate your care.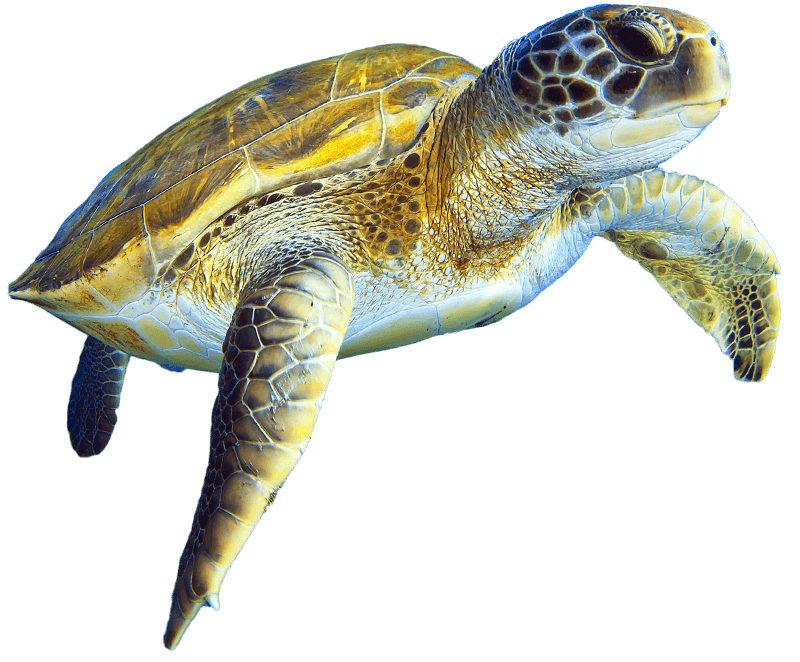 Annual Membership
Experience the Wonder again and again! With the purchase of an annual membership, you'll receive unlimited admission to the Wildlife Galleries and Aquarium Adventure, member-exclusive offers and special discounts.
Now offering our Sea & Shore Family Membership! Save even more with a membership 4-pack including bonus benefits.
LESS THAN THE COST OF THREE VISITS