Make a Splash in Nature
Get inspired by hundreds of species in their unique habitats.
Take yourself on this one-of-a-kind aquatic expedition expanding the globe's oceans, lakes and streams. Along the way, you'll lock eyes with some of the world's most interesting species.
Ready to dive in? Plan your trip and reserve your tickets to visit Wonders of Wildlife today.
Exotic Wildlife Up Close
As you journey through the Aquarium Adventure, you'll encounter some of the most unique habitats and species in the world. You'll also learn about the role conservation plays in improving marine habitats in local lakes, rivers, streams and the ocean.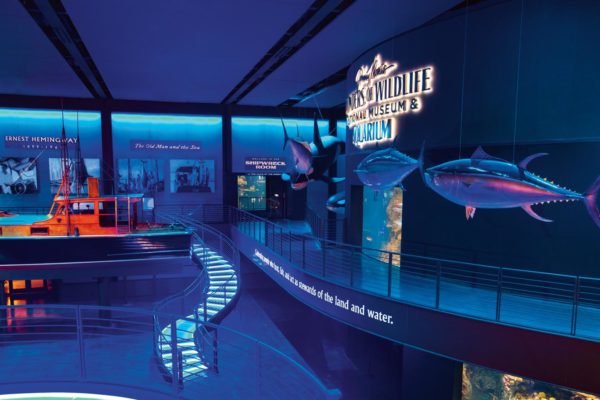 Great Ocean Hall
Your journey begins inside the breathtaking Great Ocean Hall, bringing the depths of the ocean to the middle of America. Explore historic fishing boats that belonged to Ernest Hemingway and Zane Grey.
Open Ocean
Next, step inside the Open Ocean, a circular fish freeway you can observe from the center. Don't miss the living bait ball where 6,000 herring swim in formation to confuse and intimidate potential predators.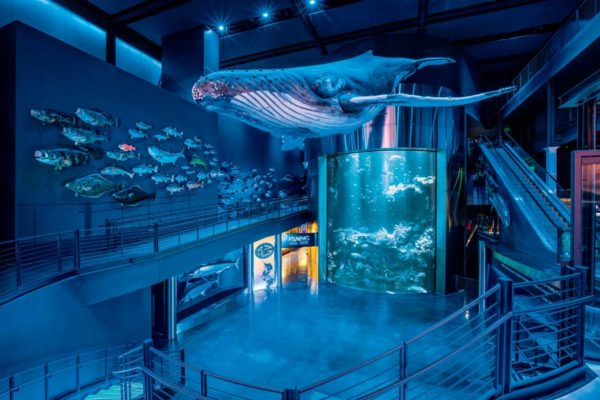 Great Barrier Reef
Discover Australia's Great Barrier Reef, a three-story saltwater aquarium teeming with colorful reef fish including Maori wrasse, potato cod, Queensland grouper and moray eels. Look up to see a lifesize humpback whale and calf swimming overhead!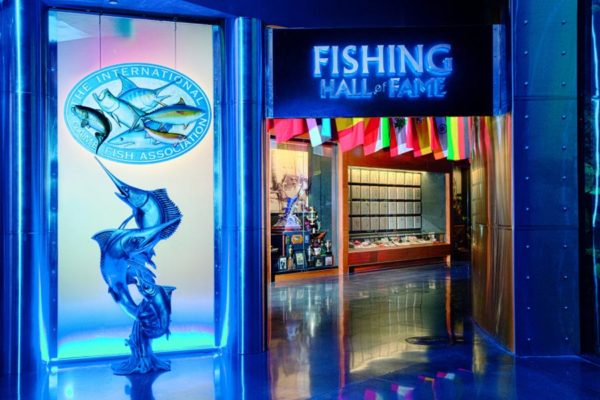 IGFA Fishing Hall of Fame
Get an inside look at some of the sport's most accomplished men and women through interactive exhibits, personal artifacts and masterfully retreated world-record fish mounts from both freshwater and saltwater.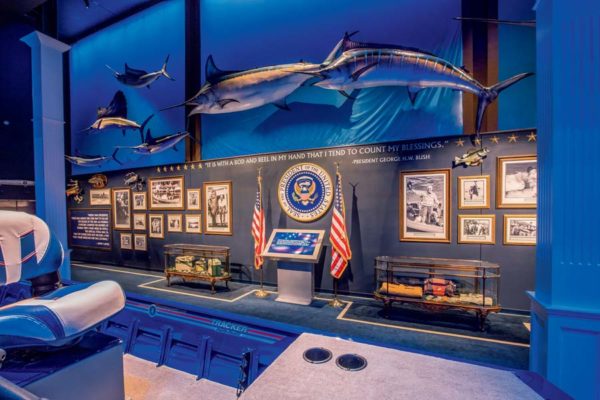 Hall of Fishing Presidents
View historic photos and artifacts from U.S. Presidents enjoying one of America's greatest pastimes with a rod and reel in hand. And, don't miss Bass Force One – a Tracker boat Johnny Morris, WOW founder, gifted to George W. Bush.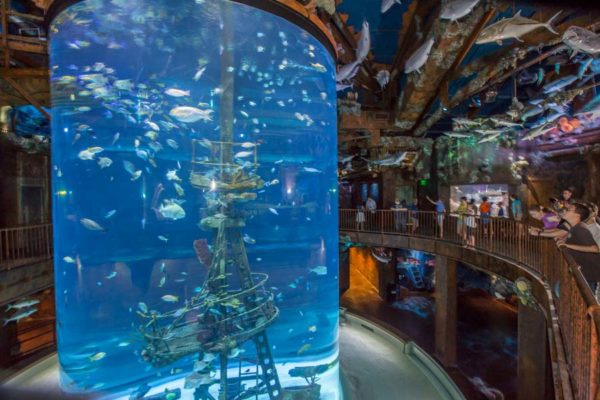 Shipwreck Reef
Plunge to the depths of the ocean floor and explore a sunken shipwreck now home to colorful reef creatures including eels, goliath grouper, lobsters and more. You'll even be able to touch stingrays that circle the bottom of the ocean.
Swamp at Night
Transport yourself to the murky swamps of the southeastern United States as you're surrounded by two-story cypress trees and nocturnal animals like owls, alligators, beaver, black bear and more.
Rivers & Streams
Explore the Ozarks through its rivers and streams, where you'll encounter wildlife like a playful pack of river otters. The great outdoors come to life with a trout stream and a lake filled with paddlefish, sturgeon and bass.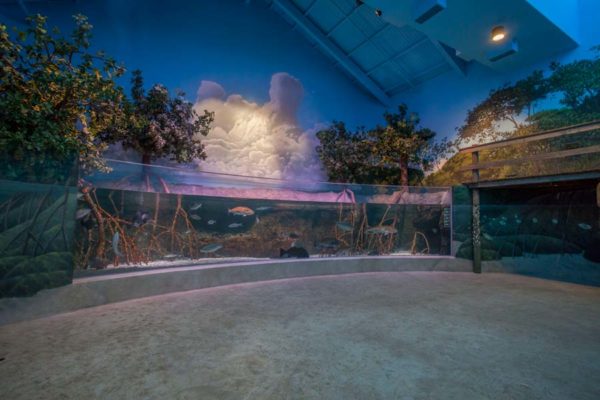 Mangroves
See what life is like within coastal mangroves, where a complex tangle of roots provides a sturdy structure home to diverse marine life that also protects the coastline from erosion.
Out to Sea
Imagine you're out on coastal waters and view sharks, goliath grouper and dozens of colorful reef fish. Test the waters even more with our immersive Out to Sea Shark Dive experience and go underwater in a cage as sharks swim around you.
The Amazon Rainforest
Admire incredible animals like poison dart frogs, red-bellied piranhas, aracari toucans, a green anaconda and more in the Amazon Rainforest. Within, you'll learn why the Amazon is known as the "lungs of the planet" and how incredible the biodiversity is in this area.
The Bass Fishing Hall of Fame
Join us in celebrating and promoting the sport of bass fishing! This is a must-see of anglers and fans around the world.
Under River
Stand at the bottom of a flowing freshwater river as bass, walleye, gar and other fish swim alongside and above you. This exhibit was featured on the Animal Planet's hit show TANKED.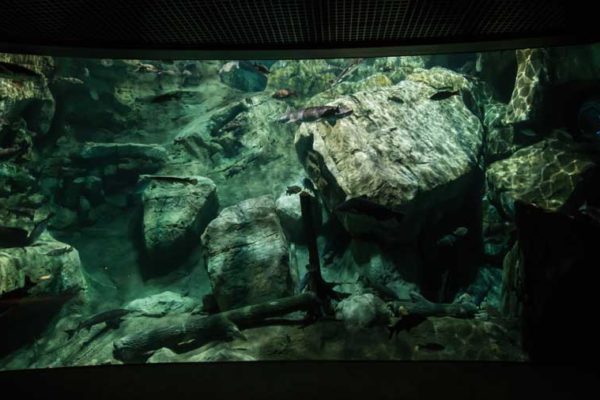 Community Pond
Peek beneath the surface of local rivers and streams as you meet paddlefish, sturgeon bass and gar. You may even spot one of our divers feeding fish!
Marvels of the Deep
Explore some of the deep ocean's most mesmerizing wonders like jellyfish, seahorses, spider crabs and a giant pacific octopus. You can also explore a living coral reef and seashells from around the world.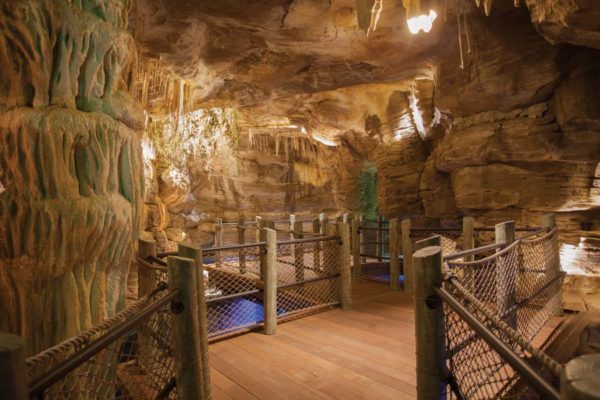 Caves: The Dark Wonder
Journey inside a limestone cave where you'll see Ozarks topography and encounter bats and blind cave fish. Be sure to look up and see the sinkhole above your head!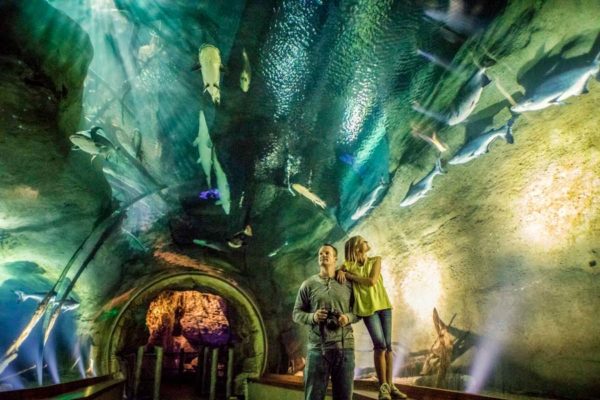 River Monsters
Walk through an underwater tunnel filled with some of the world's largest freshwater monster fish, including a seven-foot alligator gar, giant Amazon arapaima, exclusive freshwater rays and shark catfish from Southeast Asia.
Step into the Great Outdoors
Discover what the Wildlife Galleries at WOW have to offer. Each wildlife habitat features unique details to engage all of your senses. You'll see hand-painted murals and native foliage, feel the chill of the artic, hear the sounds of the African Savannah and even smell the buffalo.