A Bittersweet Goodbye: WOW Releases Rehabilitated Sea Turtles to the Ocean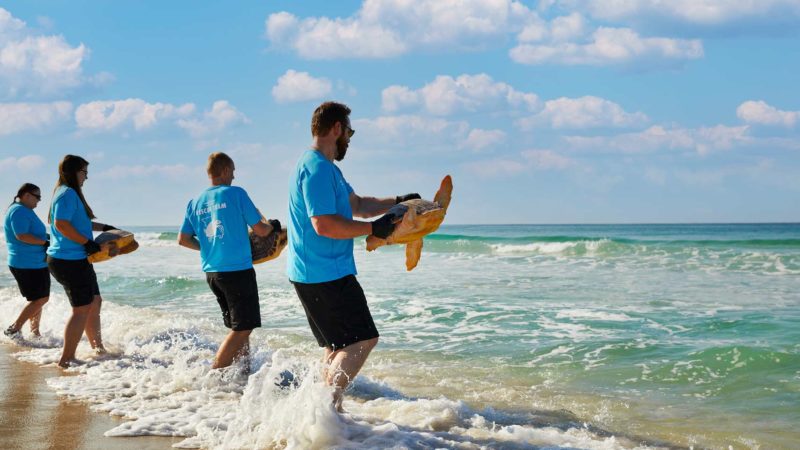 Published April 7, 2021
Twelve endangered loggerhead sea turtles were successfully released back to their native habitat in the Atlantic Ocean on Tuesday morning following a life-saving stay at Johnny Morris' Wonders of Wildlife National Museum and Aquarium (WOW) in Springfield, Missouri. The release comes following more than three months at the midwestern-based aquarium, where they received around-the-clock care from more than a dozen dedicated aquarists and animal care experts.
The Wonders of Wildlife team released the turtles into the waters off Panama Beach, Florida. As part of ongoing research and conservation efforts, each of these sea turtles was tagged so they can be identified and further studied if they should be encountered in the future.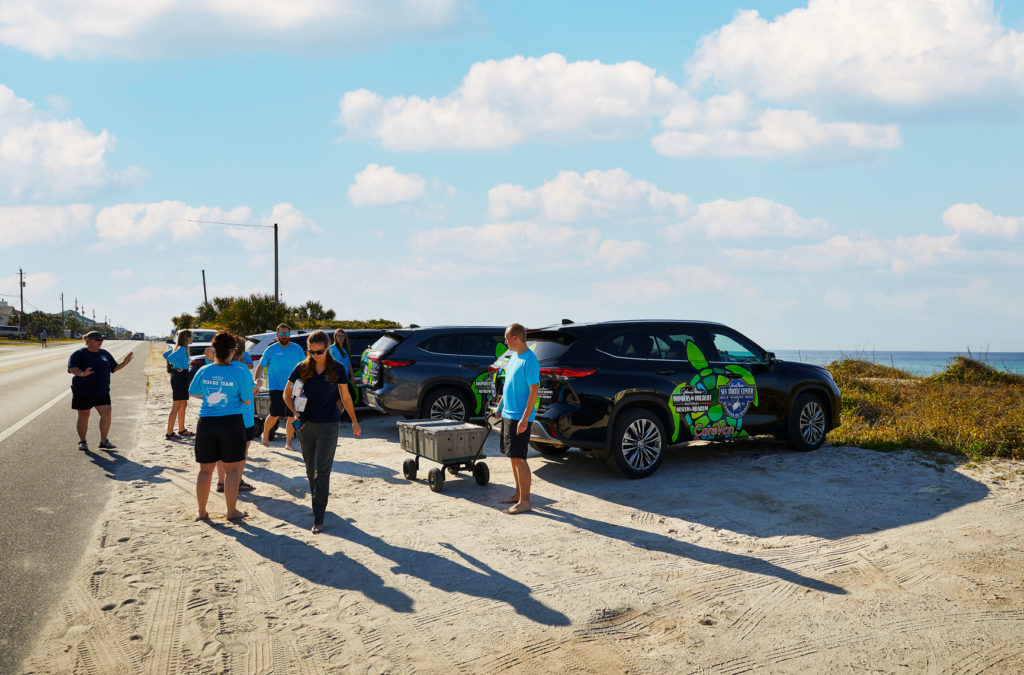 "This initiative is what the conservation mission of the Johnny Morris Foundation and Wonders of Wildlife is all about, giving back to ensure the outdoors and all it has to offer is available to future generations," said Bob Ziehmer, Senior Director of Conservation at Bass Pro Shops and Cabela's. "Assisting endangered sea turtles at this first-of-its kind facility in the Midwest is a testament to Johnny Morris' conservation leadership and our partners who helped make this possible, coming together to make a greater impact."
Life-Threatening Situation
The release marks a happy ending for the turtles, who faced dire conditions when they first washed ashore during extreme cold weather conditions and cold waters off the coast of Cape Cod in the northeastern United States.
Stricken with pneumonia, these sea turtles were fighting for their lives after being cold-stunned, a hypothermic reaction when marine reptiles are exposed to cold waters for prolonged periods. This year was the largest cold-stunning event on record, leaving sea turtle rehabilitation centers along the Eastern Seaboard at full capacity.
First sea turtle rescue facility in the Midwest
Driven by the visionary leadership of Bass Pro Shops' founder Johnny Morris, the Johnny Morris Foundation, Wonders of Wildlife, and a grant from the Bass Pro Shops and Cabela's Outdoor Fund led to the creation of the Midwest's only sea turtle rescue facility, working with the National Marine Fisheries Service and the U.S. Fish and Wildlife Service.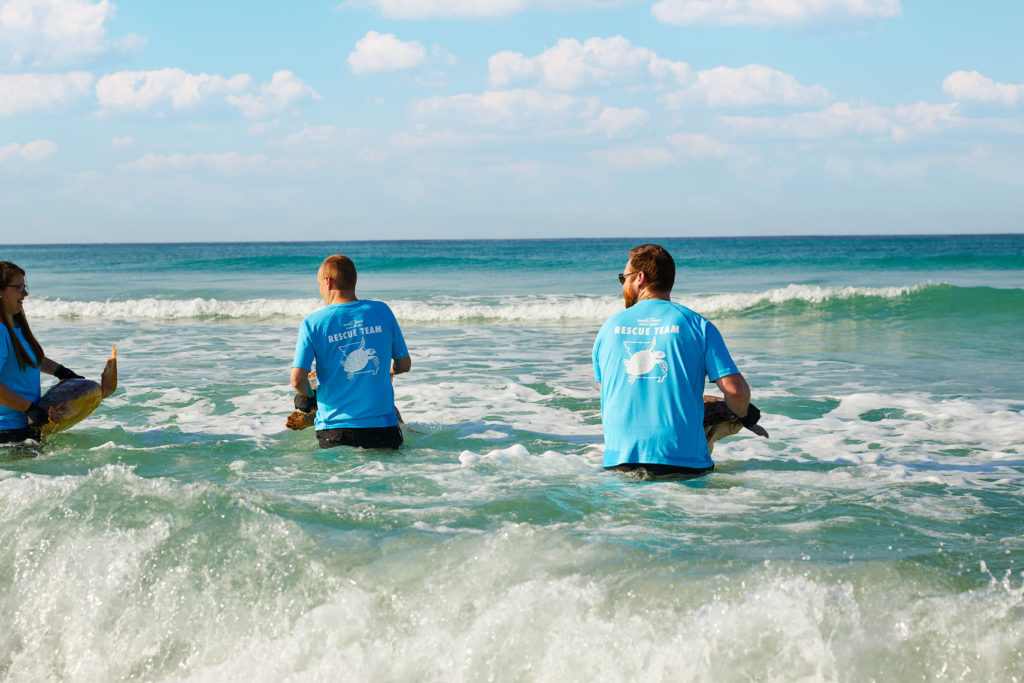 The Bass Pro Shops and Cabela's Outdoor Fund unites passionate sportsmen and women to stand together and make a positive difference for conservation. Customers can support key conservation programs across North America by rounding up their purchases at Bass Pro Shops and Cabela's stores and websites. Wonders of Wildlife guests can continue to support sea turtle rehabilitation efforts by rounding up their totals when purchasing tickets and can add donations to help support ongoing animal care and rescue efforts.
When the sea turtles landed at WOW in late December, they were welcomed by WOW's animal care team, which provided around-the-clock care throughout their stay. Antibiotics helped to clear up the pneumonia, and regular checkups included blood work, X-rays and MRIs, in addition to care from the entire team. They carried out the conservation mission of the Johnny Morris Foundation and Wonders of Wildlife, helping the sea turtles build up their strength and start eating well again, preparing for their eventual release.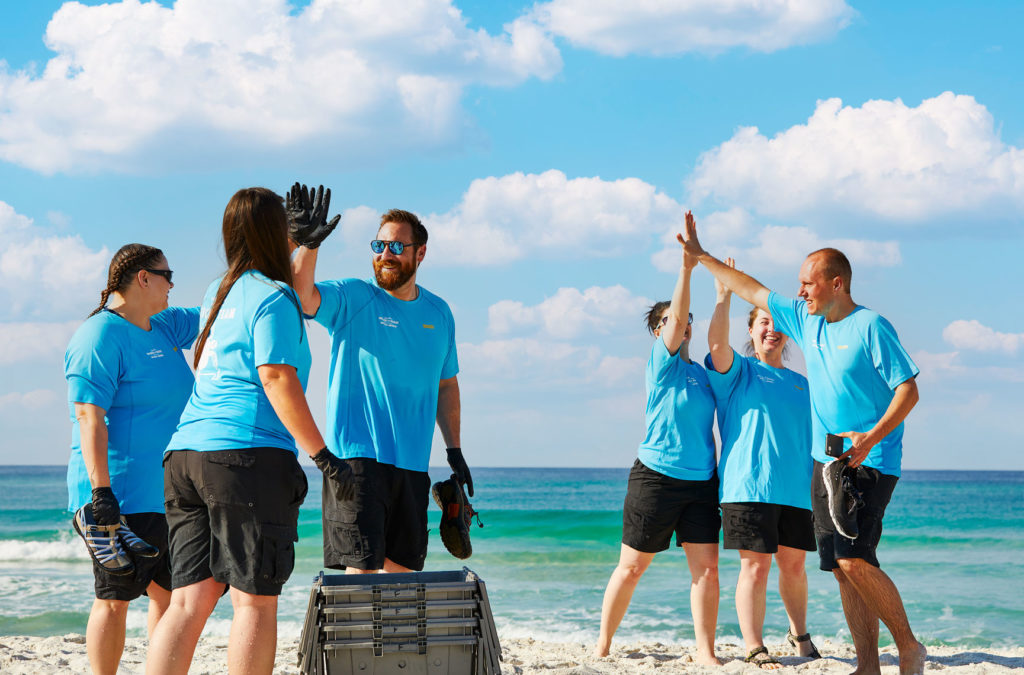 The U.S. Fish and Wildlife Service and the National Marine Fisheries Service, a division of the National Oceanic and Atmospheric Administration determined the release location based on the temperature of the water, time of year and the water currents, putting them in the best situation to survive and thrive. The turtles will continue to be monitored by the nearby Gulf World Marine Institute, a Florida-based organization that is dedicated to turtle and marine mammal rescue, rehabilitation and release.
Rescue Effort Made Possible By: