The Life of a WOW Zookeeper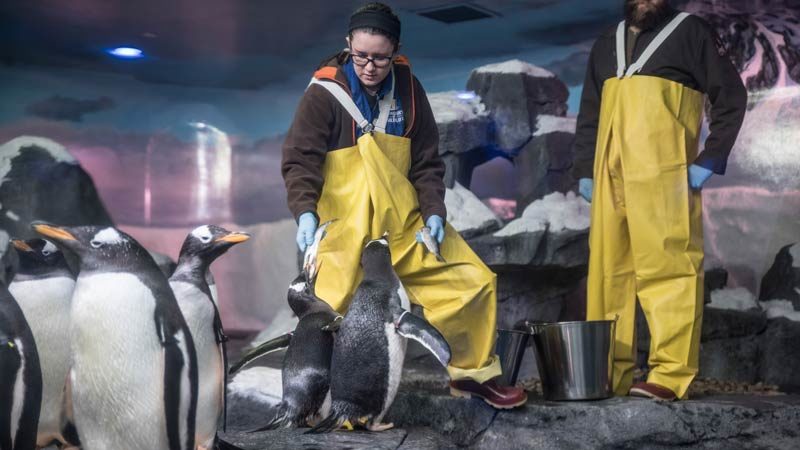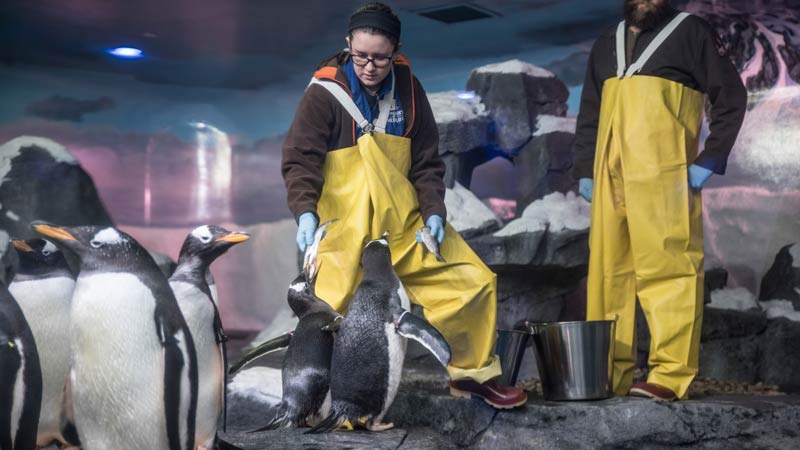 Published August 9, 2019
By: Olivia Hunter, Lead Keeper
In the zookeeping world, a typical day rarely exists! When working with wild animals, every day is an adventure! In a perfect world, this is what a typical day at work would look like
At 6 in the morning, I begin my day at Wonders of Wildlife. When I walk in to work, I am joined by approximately eight other keepers and about twenty aquarists who are ready to hit the ground running. After all, we only have four hours to get all of our animal exhibits cleaned before guests arrive at 10.
Before I start my morning routines, my team, consisting of bird, mammal, reptile, and amphibian keepers, and I make our rounds to our assigned areas to check the liveliness of each animal, take water samples, and record the temperature and humidity of each exhibit. This is one of my favorite parts of the day! It is always fun to see the animals waking up from a deep slumber to greet you. First thing in the morning, it is not uncommon to see the black bear, Winnie, sleeping on her back with all four legs sticking up, or the otters, Josie, Sophia, Ophelia, and Roux, cuddling with each other and their toys.
After our morning rounds, we begin cleaning our exhibits. Cleaning is definitely not the most glamorous part of our job, but we do not mind! In fact, we spend most of our day cleaning up the messes our animals make while they are usually there watching our every move. This is a prime opportunity for each keeper to build a relationship with our animals. While cleaning, we often talk and sing to them, play music for them, and even play movies for them!Chloe, the very curious sloth, tends to follow me around as I clean, while the youngest penguin, Maverick, tries to stand on our boots. There is never a dull moment when working with these animals!
Once cleaning is complete, my team and I enrich and train our animals. Enrichment is a great tool used to physically and mentally stimulate our animals. By giving enrichment items such as toys, scents, substrates, and food items, to each animal, we are giving them ways to stay active, engage in natural behaviors, and have control over their environment. To enrich many of our animals, for example, my team and I hide food items throughout their exhibit on a daily basis. Black bears spend most of their time in the wild foraging for food, so the hidden food gives them the opportunity to do just that!
Training is also extremely beneficial to our animals. Using positive reinforcement, we train various behaviors not only for enrichment but as a management tool. For example, the alligators will open their mouths so we can examine their teeth. The bears will shift off exhibit to holding stalls, so we can safely clean, and the penguins will step on a scale so we can monitor their weights. By using positive reinforcement, all of our training sessions are voluntary, meaning if the animal does not want to participate, it does not have to. Because we provide lots of yummy treats though, our animals are usually eager to participate.
Once our morning routines are complete, we move behind the scenes. The remainder of our day consists of cleaning back of house areas, preparing diets for the next day, and paperwork. WE also participate in keeper chats, animal encounters, and feeding demos for our guests. Some keepers on my team even participate in show dives in various tanks. For special occasions, like holidays and animal birthdays, guests might see us throwing a party with our animals!
Being a zookeeper is one of the most rewarding jobs there is! Though it can be challenging at times, my team and I love what we do. We worked incredibly hard to get where we are, with bachelor's degrees and countless hours of unpaid internships under our belts. The animals in our care are family to us, so we strive on a daily basis to give the best care possible. By doing so, we hope to inspire guests to learn about and take care of the world around them and maybe even encourage younger generations to become zookeepers too!