Celebrating Women's Dive Day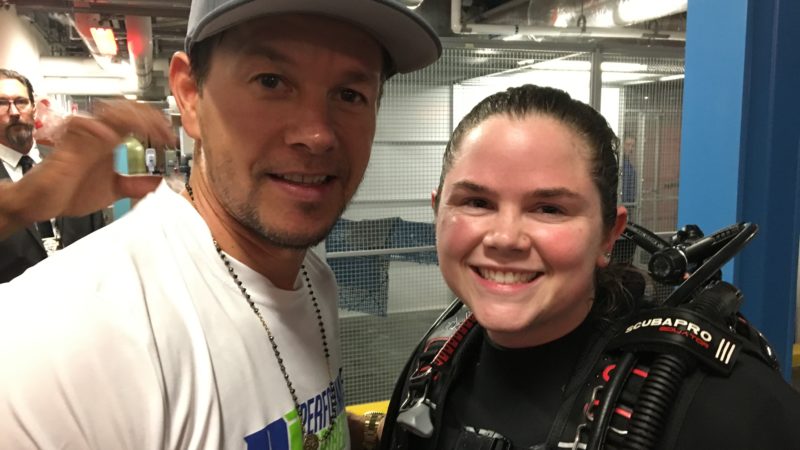 Published July 16, 2021
An Interview with WOW's Dive Ops Manager
July 17th is Women's Dive Day! We are very proud of our women divers who support our guests during their Sea Trek experience, maintain the integrity of our exhibits, and of course the love and passion they bring to the care of our animals. To show our appreciation we wanted to share one of their stories. Please meet Lauren Larese, the Dive Operations Manager!
On my way to the interview, Lauren called to ask if I would mind meeting her in the dive workshop. I found her at a workbench, looking through a desk mounted, magnifying glass dismantling something. Turns out it was a dive regulator undergoing routine maintenance. She continued her work as we talked.
Q: What do you do at WOW?
A: I am in charge of dive safety and our SeaTrek programming. So I oversee all the dive manuals, ensuring that our divers are using proper safety equipment, following our safety procedures and practices. And I do the same thing for Bass Pro Shops and Cabelas.
Q: How long have you been with WOW?
A: I actually started with Bass Pro Shops in 2015 and became their dive operations manager in 2017 as well as Wonders of Wildlife. My primary focus was to help WOW get open, launch dive programs, and help get Sea Trek going.
At this point she looks up from her work, holding a small hoop. "This is really crusty." I don't know what the hoop was for, but I did learn that the crust was actually layers of salt.
Q: How did you become interested in diving?
A: It's something I've wanted to do since I was a little kid. I knew from about 4 or 5 that I was going to work with animals and fish. When I graduated high school, my parents and I took a vacation to Alaska and we went snorkeling. When we returned my parents asked if I was sure I wanted to go for marine biology. I hadn't changed my mind in 14 years and my dad said that I needed to be SCUBA certified. We found a local shop and my dad and I got certified together. It led to a volunteer spot at the Virginia Beach Aquarium, and then I became their intern, and then they hired me part-time!
Q: Is that a pretty normal experience, starting off working as a volunteer?
A: That's the easiest way to get your foot in the door and see if it's even something you want to do. A lot of people don't know the nitty-gritty of it until they are already in it. It's not just feeding or swimming with animals, it's cleaning up after them, pulling apart the dive gear to clean, fixing wetsuits, and scraping all the good crusty bits. Volunteering is definitely the best way to start.
She is gesturing around her workshop and for the first time, I noticed all of the tools and parts she has around her. Everything has its place and its corresponding label.
Q: What was your first SCUBA experience like?
A: Oh man, it was gross. When you start learning to dive you have classroom time, learning the function of gear and how to breathe underwater. Then you move to a nice, clear heated pool. Not bad. You then do check-out dives in open water. If you live on the coast or have the opportunity to travel, you can complete your certification then. I grew up in Pennsylvania. My check-out dives were in a retaining dam owned by the city…in October. Water temps were around 50 to 60 degrees. To help calm my nerves my dive instructor took me to the dive platform and we played scum tic-tac-toe.
This was not the answer I was anticipating and we had a great laugh about it. She did let me know that her husband got to complete his certification during a trip to Cozumel. But he didn't get the opportunity to play scum tic-tac-toe so who is the real winner?
Q: What is your favorite thing about diving?
A: I like the calm that happens while you're underwater. It's just really peaceful. My favorite thing about diving here…the animals are really fun. But I really, really love scrubbing. I really do because it is so satisfying and instantly gratifying because you can see exactly where you have scrubbed. It's like coloring in reverse!
Again, not the answer I was expecting but as someone who loves to clean windows I sort of understood.
Q: What is the biggest lesson you learned from diving?
A: I would say to just stop and think more often instead of acting. Because there is so much that can go right or wrong on a dive and moving too quickly can lead to trouble.
Q: Do you have any words of advice or encouragement for beginners?
A: Just start. Find a good, recommended dive shop with a quality instructor who can safely teach you and make you comfortable in the water so you feel prepared. That doesn't mean you need to buy top-of-the-line gear, but just working on your skills to feel comfortable. And don't get cert happy and chase after every certification card. For the industry, they help you progress but if you're just diving for fun keep it fun.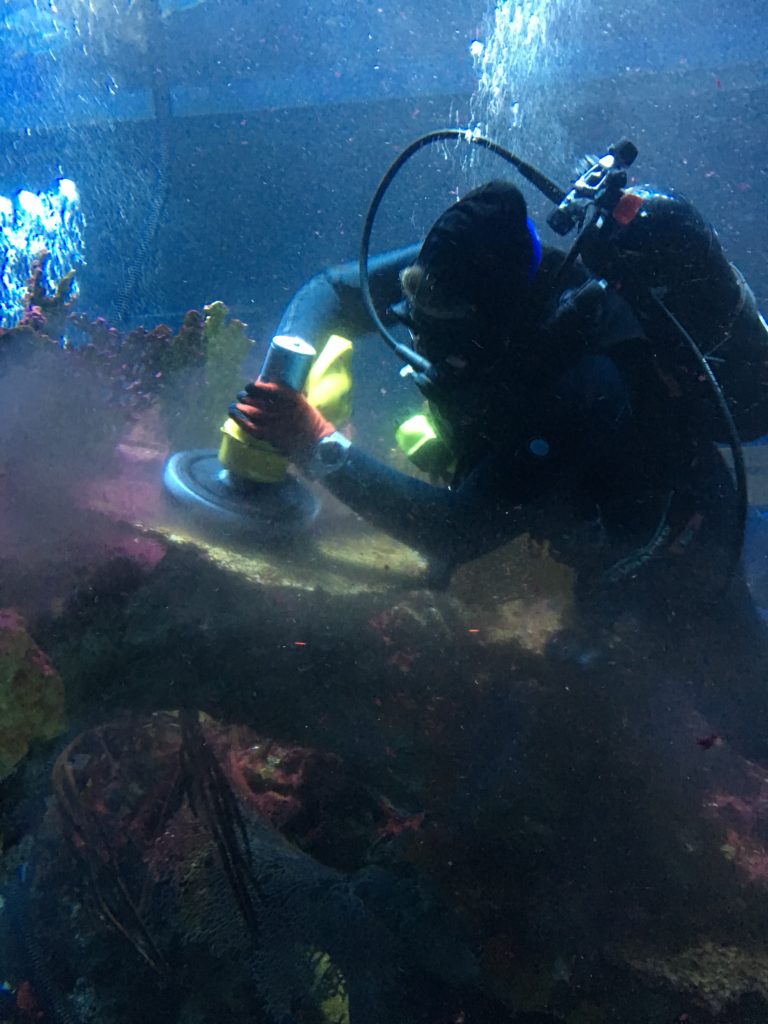 Q: What is a difference between diving in an aquarium and open water?
A: In an aquarium, you need to be more mindful of your personal space and especially how your gear is set up. Unnecessary gear can get in the way and interfere, especially around animals. In open water, you are going to need more gear for safety reasons.
Q: Which one is your favorite?
A: Sadly, I haven't been diving on my own for fun since 2014 due to time. I am spoiled by diving here in clear, warm water. I love diving out and about because it's different, but I do love diving here. It's calming.
Q: What is your favorite exhibit to dive?
A: I don't know that I have a favorite exhibit, but I dive the most in Out to Sea. It's cool to watch the girls swim around and be able to check them out up close. It is where you will find me the most. 
The "girls" are our sandbar and sand tiger sharks.
Q: What has been your favorite open water experience? 
A: I have a friend who is in the military and she is stationed in Guantanamo Bay. We got to stay there for 4 or 5 days and dive. It was amazing. The water was crystal clear. A ton of fish and seagrass beds. We were so lucky since it's not a place many people get to go. We're hoping to get back when travel opens back up.
Lauren also shared that she and her husband purchased their wedding bands there. When they returned home she found out that her grandfather bought her grandmother's engagement ring at the same store when he was stationed there.
Q: What is some advice for women divers?
A: All I have right now is the corny "you can do it" stuff. There are some very influential women divers in the industry that you can meet during a yearly conference. You can talk to women who have discovered and mapped out new underwater cave systems or authors who have written the only book about women in the industry. You should learn about them. It used to be a male-dominated sport and it's now changing and becoming more supportive of women. If you meet another diver, talk to her. Chances are they have faced or still are facing the same issues as you.
I asked if she could tell me more about the conference.
A: I am part of the ADPA, the Association of Dive Program Administrators and one of the first meetings I went to there was maybe a handful of women. It's all of the DSO or dive managers from aquariums across the U.S. and Canada. This last time we met, we took an all-girls photo and there were at least twenty of us. It was cool to see that shift and how many women are getting into dive manager roles.
A big thanks to all of our dive staff at Wonders of Wildlife! We literally could not operate without them. Please be sure to share your appreciation with them on your next visit. If you are interested in learning more about Women's Dive Day, dive training or locating your nearest dive shop, please visit www.padi.com.
As I was packing up my notes, Lauren is still at the workbench holding a different regulator. She laughs and waves me over to look, prompting my last and probably most intriguing question: "Are those rocks?"
"Yes, those are actual rocks. This is why rinsing your gear is very important.